Moving to a new country can be stressful, then add to it the worry of finding a steady job to support your new life.
But it doesn't have to be a scary endeavour. Many people move to the United States from around the world for many reasons, from continuing their studies at an American university, taking a job in the US, or leaving behind unrest in their home country.
Whatever your reasons, we're happy to lead you through the steps of making your way in the US job market and landing the perfect job.
How do I become eligible to work in the US?
If you are not an American citizen, you will need to be a permanent resident or have a visa to work in the US. Depending on how long you will be working and the type of job, there are different types of visas.
Temporary Worker Visa
If you are coming to the US for a fixed amount of time, you will need a temporary worker visa. This means you aren't planning on staying permanently or indefinitely. There are visas for those in specialty occupations, free trade, agricultural workers, artists or performers, international cultural exchange programs, people with "extraordinary ability or achievement," and more. You can read more about temporary worker visas here.
Permanent Worker Visa
If your plan is to stay in the US permanently or indefinitely, then you require a permanent worker visa. There are five categories:
EB-1: Persons of "extraordinary abilities"
EB-2: Members of professions with advanced degrees
EB-3: Professional, skilled workers, and other workers
EB-4: "Special immigrants" such as religious workers and foreign service workers
EB-5: Business investors
Some visas require you to have labor certification, or a job offer from the employer, who will serve as your sponsor. You can read more about permanent worker visas here.
Student and Exchange Visitor Visas
There are also visas available for people who are coming to the US to study at an American college or university; this is an F1 visa. The visa will also be granted to the children and spouse of the student. There are also visas for vocational students, exchange students, and Canadian and Mexican nationals who commute to the US for school. You can read more about student and exchange visitor visas here.
Green Card
The nickname for a permanent resident card, this means you are legally allowed to live and work in the US. You usually need to be sponsored to become a permanent resident. This can be done a number of ways, such as a petition for "alien relative" or "alien worker," refugee relative, and more. You can read more about green cards here.
Which jobs are most in demand?
If you're not sure where to start with your job hunt, these are the top five jobs that are in highest demand. Do any of them seem like a good fit for you?
Home health aide
Nursing assistant
Construction worker
Physical therapy aide
Truck driver
And what about where to work? The economies of each state are very different, but according to Best College Reviews, these are the top five states to find a job:
North Dakota
Texas
Florida
New York
Nebraska
How do I find a job?
If you were to ask a group of people how they got their jobs, they'll probably all have different answers. Here's just a few:
Online: There are many reputable websites where hiring managers will post job openings. Some sites are specific to an industry, while others are open to any kind of job. Sign up for a few and narrow down what you're looking for to get email alerts whenever one that fits you opens up in your area.
Drive around: Many companies will put up a poster by their business when they're hiring, especially in the retail and restaurant industries. Take a drive around or walk around a busy area to see if there are any openings. It also doesn't hurt to go inside and ask the manager if they are hiring.
Networking: Don't discount the power of who you know! Tell your friends and family that you are looking for a job. If you're a part of a specific industry, look up any professional groups in your area. Oftentimes they will have social events and workshops where you can meet others.
Job fairs: Many communities will host job fairs, where hiring companies will set up tables to meet prospective employees. Find out when the next one is, the companies that are participating, and plan to hand out your resume like crazy.
What documents do I need to apply for a job?
American hiring managers are going to ask for the following documents when someone applies for a job:
Resume: In the US, companies prefer a short and sweet summary of your work history and your education. This should be about one page long.
Cover letter: To go along with your resume, a short letter (again, no more than a page!) that describes your work experience in more detail as well as why you would be a good fit for the job.
CV: A resume but more detailed and longer. Although less common, some industries will ask for it, particularly in medicine or academia.
How do I prepare for a job interview?
You've applied for the job and now they want to talk to you further. This is a great step! Some interviews are done by phone or a video call, but most often they'll ask you to come into the office for an in-person conversation. Here are some pointers:
Research the company and the job opening. You want to be well versed in what they do and what will be expected of you.
Practice being interviewed. Either do a mock interview with a friend or practice your answers in the mirror.
Pick out your outfit ahead of time. Even for a casual job, it's best to dress nicely to show you are serious about the appointment.
Arrive early! Plan to be there 10 to 15 minutes before your meeting time.
During the interview, be prepared to also ask questions.
Within a day after the interview, send a thank you note to the person you met with.
Most companies will call or email to inform you whether you got the job or not. Fingers crossed that you get a positive response back. But if not, remember every interview better prepares you for the next one, and accepting rejection professionally always works in your favor. You never know, maybe a better position opens up in the same company!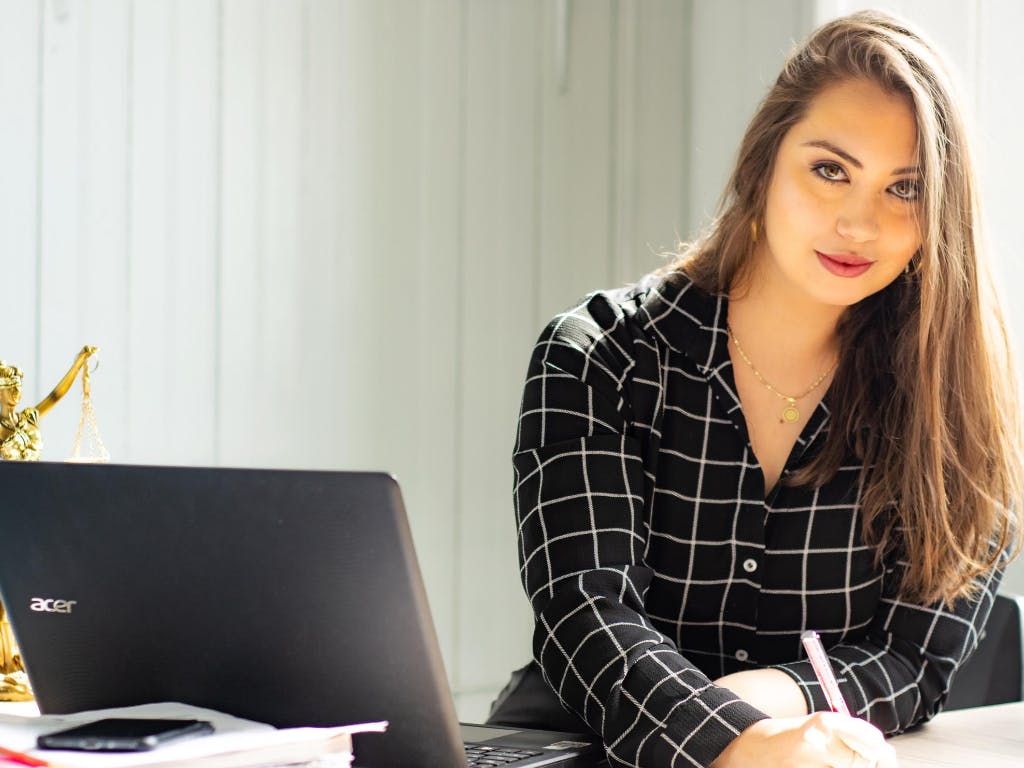 What do I do if I get a job offer?
If you manage to ace the interview and get a job offer, great! You're on your way to starting your first job in the US. But before you celebrate, the process isn't over quite yet.
Next, you will have to review the job offer and its conditions, such as the salary and benefits. Although you may be tempted to immediately accept the offer, politely ask for 24 hours to review the offer and make a decision. Employers will expect this and gladly send you the details of the offer for review.
If you already feel like the company would be a good fit and you are interested in the position, the most important thing to consider is your salary. Don't be afraid to negotiate.
Bonus: 5 tips to negotiate your salary
All of us want to earn more money, but many find it hard to actually ask for what we deserve. If you get a job offer, it's tempting to accept the first salary they offer so you don't ruffle any feathers or risk losing the offer. However, any serious employer will expect some level of salary negotiation. These quick tips will help you prepare for the salary conversation.
Know your worth: It's easy to get in the mindset that, as a migrant, it's better to score your first job in the US than to earn a fair salary. But we're here to tell you that you deserve both. Look up the average salary for your position in the US and base your expected salary on that and the years of experience you bring to the table.
Consider currency: You may be used to making a certain amount of money for a similar job in your home country, but you must consider exchange rates, minimum wage, and cost of living in the US are much different. Depending on where you're from, it might sound like you're asking for is too much, but from a US perspective it may be on average. Do your research in advance.
Aim higher: Even if the salary they offer is enough or more than you expected, it never hurts to ask for more. The worst that can happen is your request is denied. But no serious employer will rescind an offer just because you try to negotiate a better salary. In most cases, they will actually expect it.
Give a specific range: If you're going to ask for more money, be specific. Think of how much you would like to earn, and make that your starting number. Then increase it by two steps, that's your high number. So for example, if you're offered $20/hour, but you'd like to earn $25/hour, make your range between $25-$27/hour. Then even if they accept your lowest offer, it's still what you wanted. Just remember to be realistic. If you ask for too much, you risk getting nothing.
Consider other benefits: If an employer can't increase your salary, maybe they can increase your benefits, like giving you more vacation days. You may not see an increase on every paycheck, but you sure will enjoy it when you're sitting on the beach somewhere enjoying some extra time off.
And finally, if you've received an offer, negotiated your salary, and feel good about the position, all that's left to do is officially accept the job. Congratulations! Now you can officially share the good news and celebrate.
And if you're looking for more tips for people migrating to the US? Download the MAJORITY app and read more articles on personal finance, community stories, and adjusting to life in the US as a migrant.